2017
We've arrived! Or rather, IT has arrived! Maybe we met halfway…
How did you ring in the New Year? I spent the evening first at a conveyor belt sushi restaurant that was delicious but a lot of work (if you were sitting next to the conveyor belt, which I was), and then at karaoke where we sang for 4 hours straight. Sadly, there were so many musical losses in 2016, but we paid tribute to them in song. Lots of George Michael, Leonard Cohen, David Bowie, and even a little "Singing in the Rain" to honor the late Debbie Reynolds.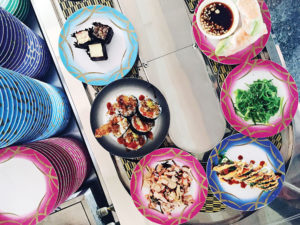 Next up is the San Miguel De Allende (Mexico) Writers' Conference in February. I'll be teaching a class on the Graphic Novel Memoir, as well as doing some private writing coaching, which I'm greatly looking forward to.
I hope 2017 brings us all personal triumphs, good health, and more!
xo