Grandma is Streaming
Grandma For President has had a long journey from idea to execution – I mean, decades-long. But she has finally landed. This story, inspired in part by the movies Being There and Citizen Ruth, and the musical Hamilton, revolves around an accidental hero – Grandma. Her 11-year old grandson Bennet answers in a quiz that his grandmother would make a better president than the two candidates running, and that quiz goes viral, landing Grandma on the ballot as she unexpectedly upends the 2020 elections. When I started writing it in the early 2000's I obviously had no idea how crazy politics would become… but here we are! By the way, Mel Brooks voices the candidate "Ernie Blanders", and he's hilarious.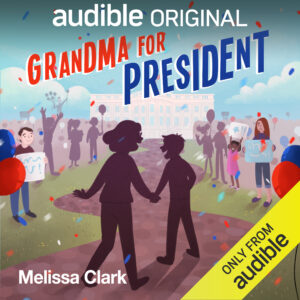 You can stream the first 10-episodes here on Audible. Don't have an Audible account? No worries! They offer a free 30-day trial. If you listen, if you like, we would love if you could rate and review it on Audible's site.
During these long, strange days, I am spending time training my dog, creating and teaching a slew of online classes, and cooking up my next podcast adventure. I am anxious about the upcoming election, the neverending pandemic, and the general state of the world. How about you? How are you coping and biding your time?
Grandma For President will help you and your family take your mind off the world's problems… at least for 2+ hours!