San Miguel De Allende; Third Time's a Charm…(For the Most Part)
I had an amazing time at the Writer's Conference in San Miguel De Allende, Mexico. This was my third time visiting the charming town – the first was in 2003 with my cousin Barbara and her family when they rented a home for the month, the second was a year and a half ago when I went to visit my friend Jen who had moved there. This time I was there teaching at the conference, as well as enjoying taking courses and hearing the key-note speakers. I've been to many conferences and festivals, both as participant and panelist, and I have to say this one was one of the best I've ever experienced.  The combination of the beauty of the setting, coupled with passionate, intelligent people really made this one sing.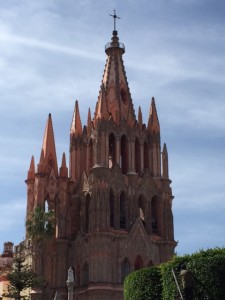 When I wasn't in class, I was tooling around with my friend Jen on her little red Moto, bumping up and down the cobblestone streets visiting parks, restaurants, the botanical gardens, and even attending a wedding.  I'm so lucky I have a friend there because when the shuttle bus simply forgot to pick me up for my flight back home, causing me to miss said flight, she was there to help in the chaos. (A special shout-out to author Claire Joysmith and host Mamie Spiegel for their support and humor as well). I finally made it home a day later, via Mexico City, but that's a whole other story.
Overall, it was an excellent conference, a joyful experience. I left feeling inspired and activated, and excited to attend again next year.